Colleen Cunningham - Abstract Artist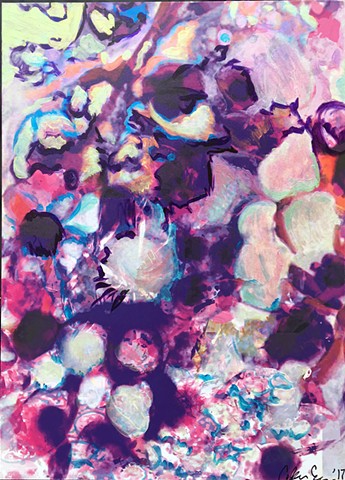 Artist Bio:
Colleen Cunningham has worked as a veterinary technician for years. She has found beauty in her unusual surroundings. A great deal of her newer work is based on the cytology findings inherent in a veterinary office. Colleen weaves layers of microscopic images with color and texture to create something original and thought provoking. She begins with images from microscopic samples from the animals she cares for and from the many types of cells and different bacteria she identifies in their care and implements them into her paintings and prints. Colleen is always seeking to collaborate with friends and other artists to create digital images. She also is passionate about live music inspired painting and sculpting.
"I enjoy tweaking layers to create something new. If we are to refer to a cell as the smallest structural and functional unit of life, my work then deals with the many layers of life.
As Kahlil Gibran states: 'Art arises when the secret vision of the artist and the manifestation of nature agree to find new shapes.' ~ C. Cunningham
Friendship, love, joy and transformation are some of the themes in her work as she weaves the many layers in and out harmonically adding color, form, line and texture to convey emotion. Colleen takes her digital images and prints them on canvas giclée and paints the canvases bright with acrylic iridescent and duochromatic iridescent paint.
"My vision as an artist is to get involved with a poverty-stricken community and paint the entire village, with the help of the village people and different organizations and supporters. The art and color that the village will evoke will bring tourism and abundance to the village. My goal is to paint and create beauty in an otherwise forgotten landscape or façade. " ~ C. Cunningham
Colleen is currently in the process of starting a 501c3 to support her vision called Paint It Bright. The proceeds generated will go towards supplies, paint and support of her vision.